I have been needing some kind of decor to flank the sides of the large window I have in my kitchen. I didn't want to spend a lot of money (I am still tutoring part-time). First, I took pics of the many desserts I have made over the past few weeks. I made
cookies
,
chocolate pudding pie
, brownies, and chocolate dipped pretzels. I took pictures of each and printed them at Wal Mart. The cost for a 5x7 was $2.00. I bought these frames at Goodwill.
The frames were $0.59 a piece. That's right. Two were wooden and two were black with gold trim. I had to sand the gold trim down before painting which was not fun. I painted each with black paint I already had.
I originally bought white mats but the frames are an odd 8 1/2 by 10 1/2. I taped the pics to the cardboard backing that came with frames. It looks suprisingly good.
The frames look great and the cost of the project was less than $13.00.
I am linking up to these parties. Check them out and if you check me out and like what you see, FOLLOW!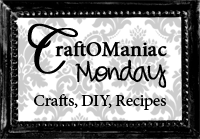 Have a sweet day!